Sail & Bike 12 - Elizabeth
Cruise overview
Sailingarea
IJsselmeer
Embarkation
3-9-2022
14:00
Amsterdam
Debarkation
10-9-2022
09:30
Amsterdam
Costs
1.039,00
Capacity
20
Currently 6 available!
availability subject to change
Complete reservation
Discover amazing Dutch highlights by boat and by bike. You'll discover a new historic port every day and will enjoy the surroundig landscape by bike. It doesn't get any more Dutch!
Voyage characteristics
Active sailingtrip
Intimate and familial atmosphere
Unique destination (National Park Weerribben - Wieden and Giethoorn)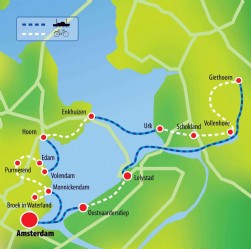 Elizabeth. She offers a stylish salon with a bar and 10 cabins with each an en-suite bathroom. All cabins offer two seperate beds that can be combined to one double bed, an optional third and some even an optional fourth bed.

Up until 1932, the IJsselmeer was an inland sea called the Zuiderzee. Since the Middle Ages, the area played a major role in the economic development of the Netherlands, but was also often severely flooded. A 32 kilometer long dike, finished in 1932, put an end to the flooding and turned the salty sea into a sweetwater lake. Along its banks many picturesque, historical harbour and trading towns, centuries-old polders (fields of reclaimed land below sealevel) and beautiful inland villages are still witness to a rich seafaring past. The IJsselmeer's now sweet water is home to a huge diversity of birds, plants and fish.

The trip will start and end in Amsterdam, near the Central Station. The exact route depends on the weather, but the following is aimed for:

Day 1: Amsterdam - Monnickendam
Boarding at 14:00 near Central Station. Once all guests have checked in, the ship sails under motor to
Monnickendam or Volendam. From the port of these former fishing village, a short warm-up ride leads you through the rural nature reserve of Waterland with its many villages.

Day 2: Monnnickendam - Volendam - Hoorn
A very Dutch start of the day: you cycle to a nearby, family-run cheese and clog shop for a short demonstration of cheese and clog making, and of course a cheese tasting.
Your next destination is Edam, a lovely town whose lanes and canals deserve a stroll. Edam is known worldwide for its cheese covered in red or yellow wax. Via the main dike of the IJsselmeer you arrive at the promenade of Volendam, where the ship is docked. Later in the afternoon, the ship sails to Hoorn.
Cycletour: approx. 30 - 51 km

Day 3: Hoorn - Enkhuizen - Urk
Through small rural hamlets and villages, today's ride brings you to Enkhuizen. Pass by windmill De Krijgsman (The Warrior), the highest windmill in the province of North-Holland and one of a handful of old Dutch windmills still in use to produce flour commercially. In the 17th century, Enkhuizen was one of the wealthiest cities in Holland, thanks to its harbour that shipped then-costly spices from Asia. Be astonished by the stately mansions, canals, churches and city walls that to this day reflect the city's rich history and wealth.
In the afternoon, weather permitting, we sail across the IJsselmeer to the port of Urk.
Cycletour: approx. 28 - 40 km

Day 4: Urk - Vollenhove
After breakfast, cycle along the lake on a tarmacked cycle path to the former island of Schokland. Since the reclamation of the Northeast polder (Noordoostpolder) in 1942, Schokland – just as Urk – is no longer an island. Since 1995, it belongs to the cultural heritage of UNESCO. Continue your bike ride through the polder to Vollenhove, another charming, former fishing village.
Cycletour: approx. 37 km

Day 5: Vollenhove - Giethoorn
From Vollenhove, cycle paths through open countryside lead you to the small town of Blokzijl. This is where you enter the Weerribben-Wieden National Park, the largest freshwater wetland in northwestern Europe and a peaceful oasis for plants, animals and humans. A bicycle path through the center of the park takes you far away from roads, immersing you in the tranquility of this region. Keep your eyes peeled for a fleeting kingfisher or—if you're really lucky—an otter, the symbol of the park. You pass through Kalenberg, a village that till the fifties of the last century could be reached by boat only.
A twisting route through an agricultural landscape of narrow strip fields surrounded by dikes takes you to the town of Sint-Jansklooster and subsequently to the small city of Giethoorn, also known as the 'small Venice of the North'. Here you'll get back on the ship.
Cyclingtour: approx. 37 - 49 km

Day 6: Giethoorn - Lelystad
Today you can enjoy a full day of sailing and relaxing on board. Again, you can help the captain sail the ship if you wish. Or you can simply sit back on deck and relax. Early afternoon the Elizabeth will arrive in Lelystad, capital of the province of Flevoland that was entirely reclaimed from the sea. Here you can stretch your legs and visit the Batavia Werf, an extraordinary shipyard, where ships with an important maritime history are taken from oblivion and returned to their former glory. Or go shopping at Batavia Stad, an outlet center with all the
famous brands.

Day 7: Lelystad - Blocq van Kuffeler - Amsterdam
In the morning you'll disembark for your last half day of cycling. You'll ride through the Oostvaardersplassen—a nature reserve on new land, left to find its own balance like nature did in old times on old land. Sections of the ride wind through forested areas, while others give you panoramic views of expansive reed beds and marshes. This is a birdwatchers' paradise. The ship picks you up in the small harbor of Oostvaardersdiep for the return voyage to Amsterdam. Celebrate this marvelous week around the IJsselmeer while having a farewell dinner aboard the ship.
Cyclingtour: approx. 20 - 30 km

Day 8: Amsterdam - All good things come to an end...
After another good breakfast, you'll check out between 8:00 and 9:30. Don't forget to come back someday!
The daily programm depends on the wind- and weatherconditions. The captain will consult the guests and determines the planning. There's a little adventure involved! The daily cycling distances are estimates - you're free to adjust the route to your own preferences. If you don't feel like cycling you can stay on board and sail with the crew to the next stop (after all, it's your holiday!).
Prices per person
| | |
| --- | --- |
| Private cabin * | EUR 1.558,00 |
| Twin cabin | EUR 1.039,00 |
| Triple cabin * | EUR 999,00 |
| Quardruple cabin * | EUR 939,00 |
| Discount children ** | 15% |
* Private, triple and quardruple cabins have a limilted availability. Please contact us if you wish to book a one of these cabins.

** Discount for children up to 15 years and stay in the same cabin with their parents (maximum of 2 children).
Included:
Accommodation in your booked cabin
Bedding and towels
All meals (7 x breakfast, 6 x lunch or lunchbag for during the cycling, 7 x three-course diner)
Welcome drink
Daily briefing by the captain / crew
Detailed maps and descriptions of the cycling routes
Coffee and tea daily until 16:00 complimentary
Not included:
Drinks
Coffee and tea after 16:00
Transfers to and from Amsterdam
Parking fees
Bike rental (see below)
Personal expenses, entry fees, excursions, ferry costs
Travel insurances
Limitation of liability (damage) rental bicycle EUR 10,00 /week
Limitation of liability (damage) rental e-bike EUR 25,00 /week
Parking own bicycle: € 10,00 per week (limited number of parking places available, reservation by booking)
Parking + charge station own E-Bike: € 25,00 per week (limited number of parking places available, reservation by booking)
Fuel costs surcharge (cash payment on board)
Bikes
We offer you the opportunity the rent a bike for the entire trip. The bike will be waiting for you on board when you check in. These bikes are unisex-touringbikes with 7 gears. Other bikes (e.g. e-bikes or childrens bikes) and kiddyseats are only available on request prior to your booking!

Prices:
Standard touringbikes with 7 gears: € 85,00 per week
E-bike with 3 support-levels and 7 gears (range: 60 - 65 km): € 185,00 per week (limited availability)

If you want to bring your own bicycle, we charge € 10.00 p.w. for a normal bicycle and € 25.00 p.w. for an e-bike. Allthough we will handle and store your bike carefully, neither the crew nor the touroperator or its resellers can take responsability for damage or loss of your belongings - including your bike.

Bicycle helmets are not on board, but can be rented at € 10.00 per person. You must recerve your helmet by booking.
If you make a reservation with the form below, it is still preliminary. We will contact you and inform you about the available cabins. Please let us know if you want to participate on the tour and we will send you the agreement. After you signed the agreement within 3 days your booking is official.
Complete reservation
Click here how we manage your personal data