Summer sailcruise dutch highlights - Elizabeth
Ship
Elizabeth
Sailingarea
Friesland
Embarkation
27-8-2017
20:00
Lemmer
Debarkation
1-9-2017
10:00
Lemmer
Costs
495,00
Capacity
20

(nog 12 beschikbaar)
Cruise along the Dutch highlights of the former Zuiderzee - featuring typical pittoresque harbours and breathtaking natural scenery.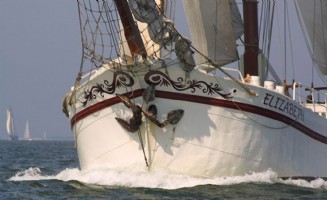 You'll activly cruise in a relaxing fashion and help sail the ship whenever you'll feel like it. On all daily stops, there's plenty time to discover the area as you see fit. The exact route depends on the weather, but the following is aimed for:

Day 1: Lemmer
Boarding from 20:00. On board, you'll meet the crew and your fellow adventurours. You can spend the evening by discovering the nice city-centre, having a drink at one of the bars by the water, or both.

Day 2: Enkhuizen
After breakfast your adventure will commence. You'll hoist the sails and the course is set on Enkhuizen. When leaving Lemmer, you feel tiny when sailing by the energy-producing modern windmills. You'll arrive in Enkhuizen in the course of the afternoon, so you can spend a fair amount of time in the historical city centre.

Day 3: Stavoren
Prepare for another beautiful day of sailing. In Stavoren the Lady of Stavoren statue awaits you - Skipper Folkert is eager to tell you all about the legend of this whealty merchant-widow. Don't forget to visit the beaches or to rent a bike to discover the surrounding area. After diner, you can watch the sun set into the IJsselmeer and strawl along the dike and the historic town.

Day 4: Heeg
Today you'll discover the famous Frisian Lakes area and cross several lakes to reach the destination: Heeg. A variety of gastronomy and a relaxed atmosphere characterizes Heeg.

Day 5: Lemmer
A further day of sailing in the Frisian Lakes area with an even more versitile landscape as your scenery: Friesland at its finest.

Day 6: Goodbye, but not farewell!
After breakfast you'll check out.
Details
EUR 495,00 per person
Price is based on the accommodation in a shared cabin with en-suite bathroom
All meals included (during the meals, coffee, tea and water are included as well)
Bedding and towels included
Drinks are not included
Personal expenses, excursions and (entrence) fees are not included
Transfers to and from the port of departure /arrival are not included
Insurances are not included
Reservations: